Catering Menu Example
LET'S BEGIN
Mini Chicken Chimmis –
(These are hand crafted Cream Cheese, Jalapeno & Chicken deep-fried chimmis)
Shrimp Cocktail & Poke Tostadas-
(Jicama, Onions, Mango, Wonton Chips) or (Shrimp, Spicy Clamato, Onion, Tomato)
THE MAIN EVENT
Birria Tacos-
Tacos, Nachos & Mini Quesadillas
Mini Pupusas– Corn maza stuffed with:
(Pork, Bean & Cheese, Shrimp, Cheese)
Birria Short Ribs-
(Braised Beef Served With Baked Potato)
Cubano Sandwich
(Served with Plantain Chips)
Pricing
$30-100 Per Person
Plated & Served or Drop Off Buffet Options

Operational Fee 23% of Total

Tax

Private Parties are Billed at a custom rate which can be discussed

during complimentary consultation.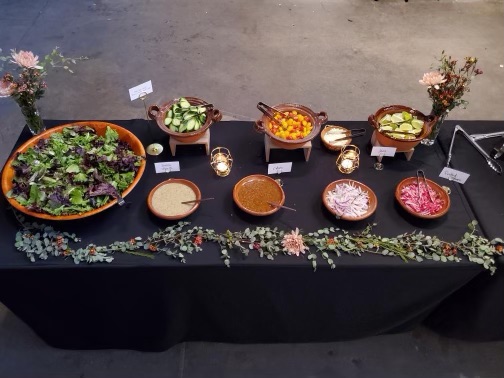 Private Dining & Food Catering
Bibi's Latin Kitchen
With a variety of culinary skills, Chef Bridget will make your next event a memorable one. From weddings and corporate events to private dining experiences, we ensure every detail is covered. Enjoy our Salvadorian Pupusas & Tacos, or create your own unique menu that will satisfy your guests. If you need something that is not on our menu, please contact our team for a complimentary consultation and a custom meal plan for your event. 
Make Sure to press "Request Event Consultation". We will reach out to you directly and go over the solutions we have for your catering needs! Thank you for trusting us with your next event!